Social Network and Search Engine - Pinterest
Gather inspiration, discover trends - Welcome to the (limitless) world of Pinterest.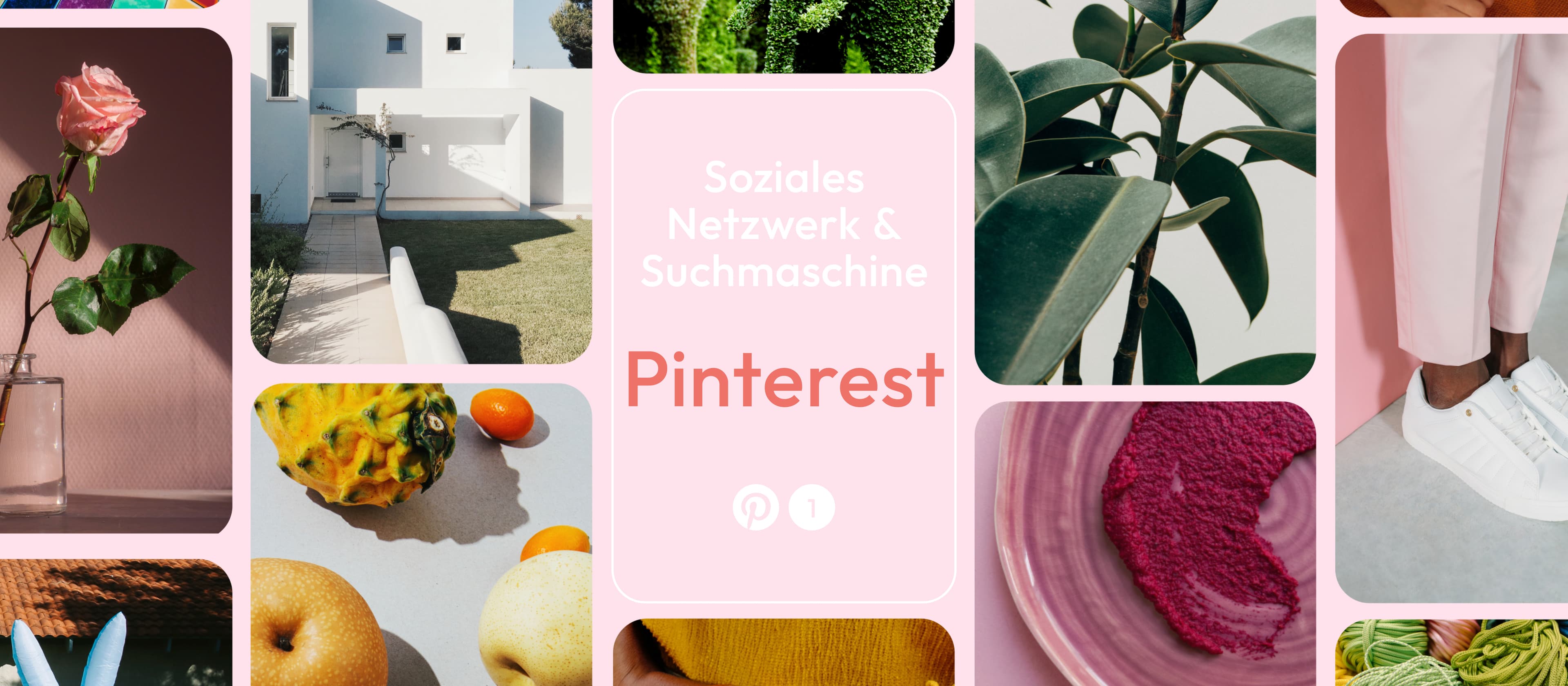 Over 1 billion sales per year, over 400 million users worldwide - social networks not only make up a large part of our private lives, they also play a crucial role in the business world. Let's take a look at Pinterest.


What is Pinterest? 
The world of social media platforms is large and extensive and every network has a special feature for which this platform is known and famous. Even if other platforms copy parts of this feature after a certain time, modify it and make it available on their own, there is always someone who was the first. Just as Twitter, for example, was the first social network to be thought of as purely text-based. Instagram, Facebook, TikTok, LinkedIn and Co. are on everyone's lips, and various platforms also keep popping up in the news. And then there's Pinterest, another social network that doesn't make much of a splash, especially in Germany, and that's despite the fact that Pinterest had around 16 million members in Germany in 2022.
So what is Pinterest and what sets this platform apart? 
Pinterest allows users to discover ideas and inspirations, collect them and then share them. The concept is based on creating virtual pinboards where users can organize their content, such as images, graphics and videos that they find interesting and inspiring, and share them with others. 
So primarily it's about sharing ideas on various topics such as fashion, home decor, travel, cooking, art, crafts, DIY projects and much more. Users can also pin content from other users and thus save it for themselves on their own pinboards. This is how the collection is created and grows, networking with each other and all content can be accessed at any time. Pinterest also offers features such as searching for specific content, following other users, and sharing pins with friends. 
Although Pinterest was originally developed for personal use, many businesses and brands also use the platform to showcase their products and services and reach out to potential customers. Companies can create their own pinboards and share their content with Pinterest users.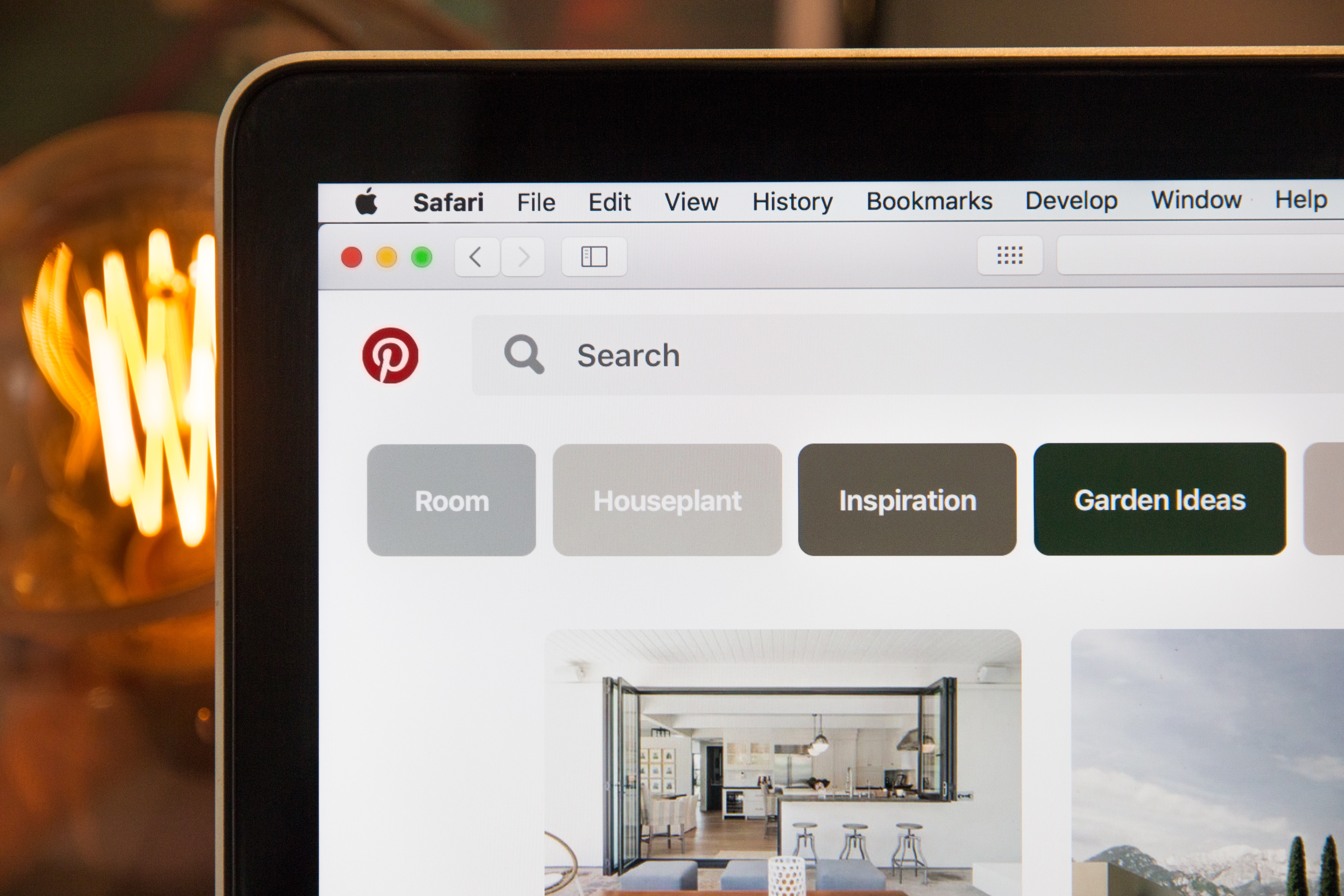 A few numbers about Pinterest 
Well known, but not so well known? Let's take a look at some numbers from last year (2022) about Pinterest. What do the statistics say? 

Of course, there is a whole lot more about the platform and a whole bunch of statistics. If you still haven't had enough, you can take a look here, where you can expect many more numbers about Pinterest. 
But it's clear that Pinterest is an equal player in the cosmos of social networks. And it's also clear that the marketing and advertising opportunities are huge.


The platform in a nutshell 
What's actually so great about Pinterest and how can you find the best way to use the plattform for yourself? Pinterest is a visual discovery platform and unlike other platforms, people (mostly) come to Pinterest with an intention to buy. And if you think that there are only recipes on Pinterest and that this makes it just a visually appealing recipe magazine, you're wrong. There are many different categories to discover:
Food

Home

Fashion

Décor

Animals

Beauty

Travel

Wedding

Drink

Baby
Above we already described what Pinterest is used for by private users and now let's take a look at it from a business perspective.

Build organic reach
Before we get to paid ads on Pinterest, let's first take a look at what you can already do organically on Pinterest as a business.
The most important thing here is continuity. You can't expect to create a business account on Pinterest and then things take off. Here it is similar to Instagram and Co., you have to stay tuned and publish content regularly.
Here are a few tips:
Create new, original pins at least 1x per week. If possible, but even more often. We see 1x per week here rather than the minimum.

Pins can also be pre-scheduled using Pinterest's scheduling tool if you can't manually post at the time.

Design new pins with detailed content. In addition to suitable images and short text, be sure to include a URL to generate traffic for your website or store.

Image material is best in vertical 2:3 format (1,000 x 1,500 px).

Ensure order: It is best to sort the posted pins on suitable pin boards. For example, if you have an online store for cats, then create pinboards for the different topics, e.g. "Suitable cat breeds for allergy sufferers".
According to the last tip: 
Pins don't always have to be specifically about your products or services, it's about creating interest for the user. For example, if someone wants a cat and the person has an allergy to animal hair, then the person searches for suitable breeds on Pinterest and finds the post from your online store. 
Of course, in the first step, this will not lead to the person immediately buying in your store, but through the content, the person will later, when he or she has a cat at home, remember the pin (maybe he or she has saved it, that would be even better) and return to your store. Of course, it doesn't always have to be far-fetched topics. Staying on the topic of cat needs, you can also post about how to find the perfect food for your pelt nose, touching on the different food products available in your store. The possibilities are endless.


Discover and analyze trends
If you're wondering whether there's even the right audience for your products, topics or service on Pinterest, you should definitely take a look at "Trends". As a business account, you can see what content is popular on Pinterest and when users start searching for different topics.
For example, trends can be discovered based on different trend types: Most Important Monthly Trends, Most Important Yearly Trends, Growing Trends, and Seasonal Trends.
These trends can then be further filtered, for example, by interests, age, gender, etc.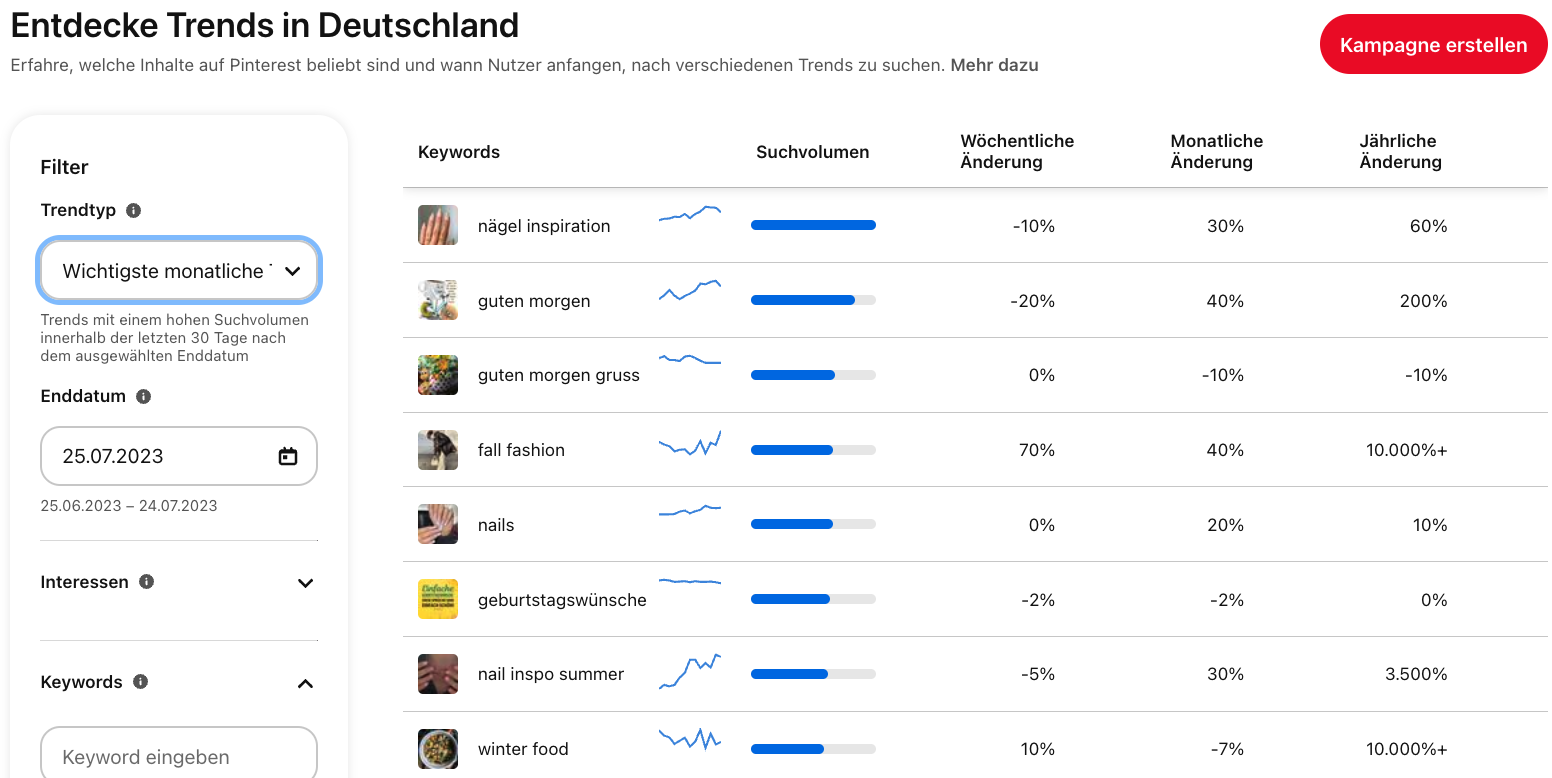 Discover the German trends: there is a search slot where you can enter your own terms. To the right, the desired region can be set, e.g. Germany, German-speaking countries, USA, Southern Europe, etc.
If you search for "cats", for example, you will find the term "cat furniture" among the suggested results, which can be a good clue for a pin topic. With the topic "dog", for example, "make your own dog ice cream" comes up as a suggestion. This could then be followed by a Pin on the topic of recipes for dog ice cream, preferably from ingredients that you offer in the store. 
Pinterest is particularly popular with fashion lovers. Early on, people search for outfit inspirations in the respective seasons. So it's worth creating a pinboard with fall outfits at the end of summer if you have an online fashion store.
Summary 
Pinterest is much bigger than you might think if you haven't had any touch points with it yourself. Pinterest offers much more possibilities than you can imagine - for individuals as well as for companies. A platform full of inspirations, trends, ideas and more. A hidden champion among social networks. 
The options for businesses, e.g. also when placing ads on Pinterest are huge - we'll cover that in our second part on Pinterest. Coming Soon.


Looking for inspiration? Take a look at the Flanke 7 Blog.