Heyflow, request form, perspective, smashleads - how to increase the conversion rate of your website with interactive clickflows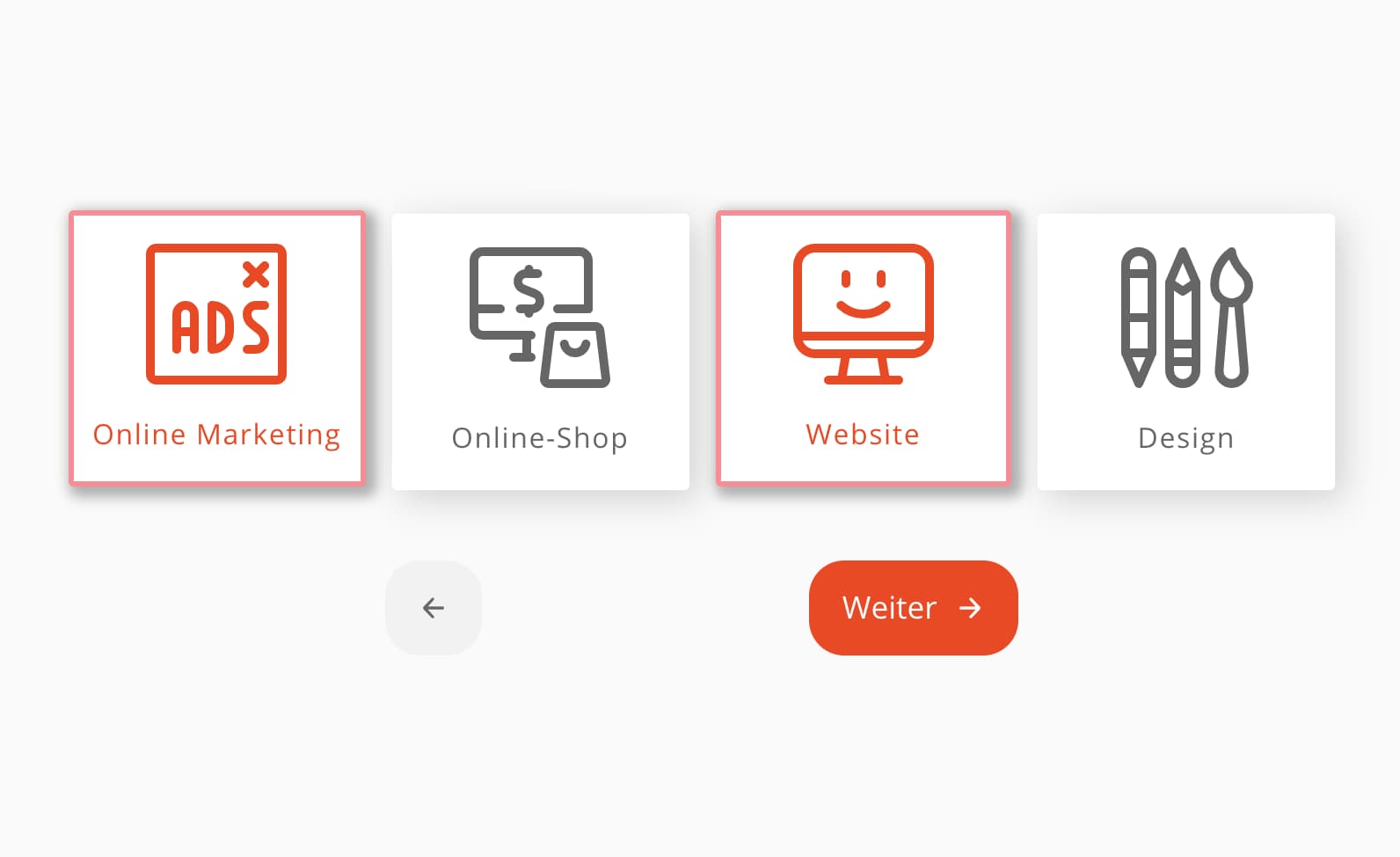 What are clickflows
Anyone who closely follows the development of modern landing pages will have noticed a trend: configurators, quizzes or similar interactive forms are becoming more and more common. The advantages are obvious: The user can specify what he is looking for with minimal effort and be taken directly there. This can be the right product for him, an appointment with the right contact person or an individually tailored cost estimate. We at flank 7 have already had very good experiences with such forms and have been able to significantly increase the conversion rate and the quality of the leads generated by some of our customers.
The creation of such configurators is very easy: In the past, developers were required for this or you had to make do with the limited options of a Jotform. But there are now some tools that are specially optimized for the creation of such configurators or forms as conversion-enhancing landing pages. I would like to introduce you to four such tools: Heyflow (formerly Niro), Perspective, Smashleads and Inquiry Form.
To understand: There is still no fixed term for this type of form that has prevailed in the industry. At Perspective they are called "Mobile Funnels", Heyflow calls them "Clickflows", Smashleads simply "interactive forms" and at Request Form they are called... Request Form. I've decided to adopt the term "clickflow", which we also use internally. The reason for this is that it is the least ambiguous. "Interactive forms" could also mean a normal HTML form or a tool like Jotform. In my opinion, "mobile funnels" include much more than just a form. A form can cover a large part of a marketing funnel, but e.g. the ads that bring traffic to the form also belong to the "funnel". "Clickflow" is the clearest term as a separate term.
How clickflows work
All clickflows have only one thing in common: users can click through several steps and receive a result at the end. The individual steps can look very different. The user can be asked a question with ready-made answers. Or with a free text field. It can also ask for the price range with a sliding slider, etc. You can try some of these variants in the example below:
As there, clickflows can then easily be integrated into existing websites or landing pages (including those from Unbounce, Instapages and co.). It is also possible to display an (exit intent) popup. Alternatively, it is also possible to use the clickflow itself as a standalone landing page, both on desktop and mobile.
The creation is very easy with all four tools: In a drag-and-drop builder, the individual steps can be designed in a short time without any problems. The clickflows are then published and can either be played out via the domain of the tool provider or hosted on your own domain. The integration of tracking via Google Analytics or Google Tag Manager is also possible without any problems.
The possible uses of clickflows are very diverse:
As a product configurator to make it easier for users to find the right product variant.
As an entertaining quiz to playfully generate leads for your email list.
As an appointment planning tool to arrange appointments and to clarify the most important questions in advance.
As a tool for calculating price examples, for users who first want to know roughly "what something like this costs".
Of course, the click flow does not always have to lead to a direct conversion in the sense of a sale or lead. It is also possible to use it to collect email addresses or contact data. It is important, however, that you always promise the user an advantage first when they go through the form. This can be, for example, the right product, a freebie, an appointment, a specific price or an individual test result.
Benefits of a clickflow
Users love interactive clickflows
Exceptions always prove the rule, of course, but for many users, interactive elements on a website are simply very appealing. Traditional websites are often all about a specific product or service. The user then has to find the information they need themselves and decide for themselves whether what is on the website is suitable for them. Clickflows, on the other hand, follow the user-centered design approach: The focus is on the user himself, he is allowed to interact with the website and go through the individual steps. An individually suitable offer is then presented to him (directly, by e-mail or in a telephone call). Information that is not relevant to the user is not even displayed to him.
Clickflows are mobile-friendly
The Perspective tool in particular emphasizes this point very strongly in its branding activities: Clickflows are very much in line with the usual way mobile devices are used. They can be designed in such a way that the user can reach their destination by tapping and swiping and without scrolling at all. All tested tools are also mobile-friendly and feel great on smartphones.
Clickflows work with any type of traffic
Because clickflows are so adaptable, you can design them to work well with any traffic source. Do you want to use social media traffic to generate leads? Create a clickflow as a quiz, test or survey, possibly with a freebie (case study, white paper, flyer, etc.) as a reward for clicking through. For example, you can present users who are interested in diet-related topics with a "Find out what type of dieter you are" clickflow, with a customized diet plan as a reward. Or maybe you want to use search traffic instead? Then product finder, appointment or price calculation clickflows can work excellently. And here you have a very special advantage with a clickflow. You pick up the user where he is: on the search. When the user uses your clickflow, they get the result they are looking for in just a few clicks. Without having to compare several providers with each other.
Save time and gather information with pre-qualified leads
Because you receive your leads directly with the users' answers to the questions in the clickflow, the sales pitches become significantly shorter. You can also filter out unsuitable users much better. Your offer is only aimed at B2Bers? Then introduce a step where you ask the user if he is a B2Bler. This way you can filter out B2Cler directly and save a lot of time because you no longer have to have conversations with unsuitable leads. In addition, the gain in information should not be underestimated. For example, with SEA in the B2B area, you often struggle with the low conversion numbers, which make it difficult to optimize the ads. With clickflows, however, you can set the question "Are you a B2Ber" as a soft conversion. This makes it easier for you to determine if your ads are targeting the right audience. You can also generate sufficient conversion data for your bid optimization and smart bidding much faster. Or you create a question about the pain points of the users ("What do you need help with?" or "Which area gives you the most trouble?"). This gives you valuable insights into the search intentions of your users.
The best tools for clickflows
Of course, you can also program clickflows yourself. But you save yourself a lot of time and effort if you go through a SaaS provider. Here you get an out-of-the-box drag-and-drop editor for creating clickflows that even my grandma could use. This is particularly interesting for agencies, who do not have to program a separate click flow for each customer. Development time can also be saved in this way and the creation can easily be taken over directly by marketing. Just like Unbounce and co. this has the advantage that marketing can make changes later without detours and it is guaranteed that traffic and landing page are perfectly coordinated. The clickflows of these providers are also all mobile-optimized and lightning-fast.
Perspective
Perspective is a Berlin agency that, under the direction of Michael Bogner, specialized in mobile funnels a few years ago and, according to its own statements, was extremely successful with it. So successful that the company has now evolved into a SaaS provider. By the way, what I didn't realize at first: Perspective's "Mobile Funnels" are also suitable for desktop users. However, the focus of optimization is on mobile users. That's why Perspective's clickflows look really good on smartphones.
In my opinion, Perspective is definitely the most popular tool provider for clickflows at the moment. It is noticeable that a well thought-out and extensive marketing campaign is being carried out here. Once you have come into contact with Perspective, you are already in the marketing funnel of the Berliners and will be invited to free webinars and agency crash courses at regular intervals. This is not meant as criticism: the content is really good and helpful!
What is perspective funnels? (YouTube)
I also see the biggest advantage of Perspective in the content. As a customer, you get a lot of help in creating good clickflows and running the right ads for them. You will receive customizable templates for different types of clickflows and you will always be provided with really good tips via an active YouTube channel, a blog, regular newsletters, webinars and our own Perspective Academy. However, there is a major disadvantage with Perspective: there are currently no logic paths. That is, it is not possible to skip certain steps in the flow depending on how previous steps have been answered. This is already possible with Heyflow as well as with the inquiry form and Smashleads. When asked, however, Perspective has already assured that it is already being worked on. The interface is also a bit more immature than that of the competition. Here and there there were minor bugs or obstacles.
Smashleads
Smashleads was founded in 2019 by Christian Temming, Noah Frohn and Luka Sikic. With Smashleads you can create "interactive forms" that can be integrated into all websites, landing pages and popups via iFrame. A special feature of Smashleads is branching, in which the various logic paths are visualized very clearly and clearly in a kind of flow chart.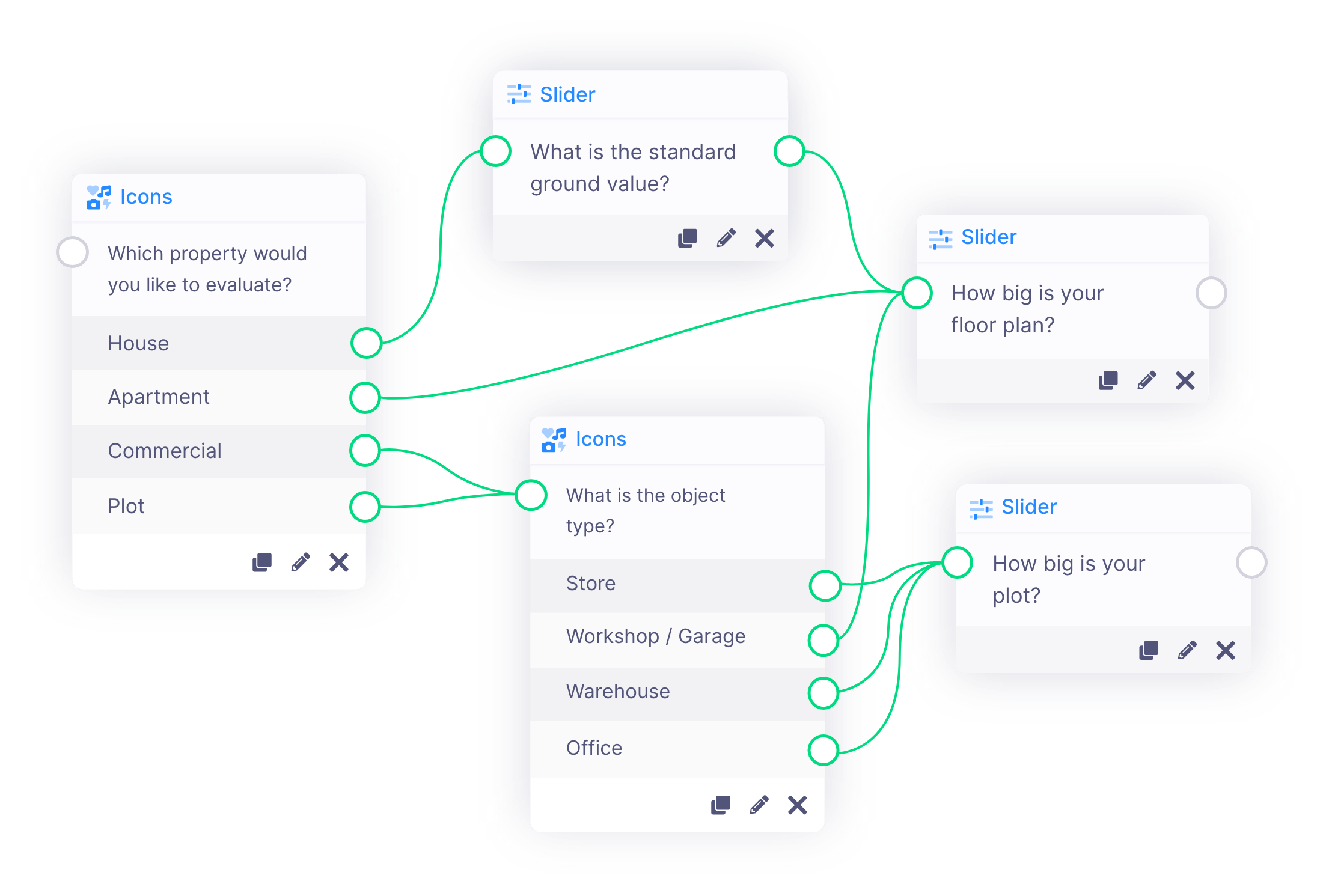 In addition, Smashleads offers customer management in which agencies can create customers and assign them the clickflows that have been created. This is particularly interesting for larger agencies. For example, it is also possible to assign access to a customer's clickflows to a permanent account manager.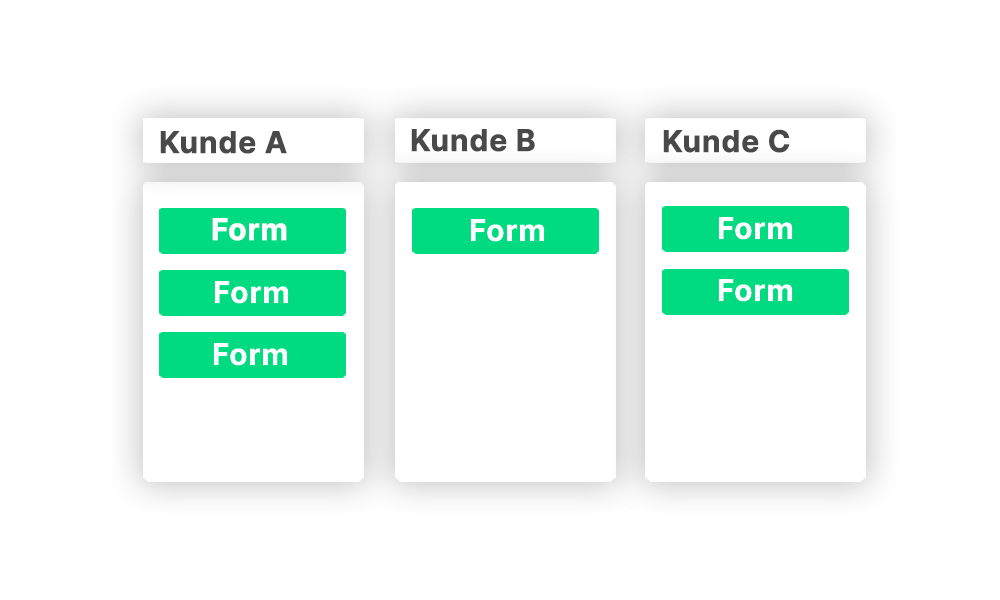 Heyflow (formerly Niro)
Update from 05/14/2021: Niro was officially renamed to Heyflow today. The reasons for this decision can be read here.
Heyflow is a Hamburg-based SaaS startup that was founded in early 2020 by Amir Hügelkamp and Dustin Jaacks. The tool completely convinced me and seemed to be the most mature. The editor is easy to understand and we have only encountered a few minor bugs so far. Because the pricing was also right for us, we finally decided on Heyflow and have been very satisfied with it so far. The clickflows can be easily integrated into websites or hosted separately on Heyflow's domain. Setting up the tracking via Google Analytics was also no problem. Heyflow clickflows look great on both mobile and desktop and convince with their very high page speed.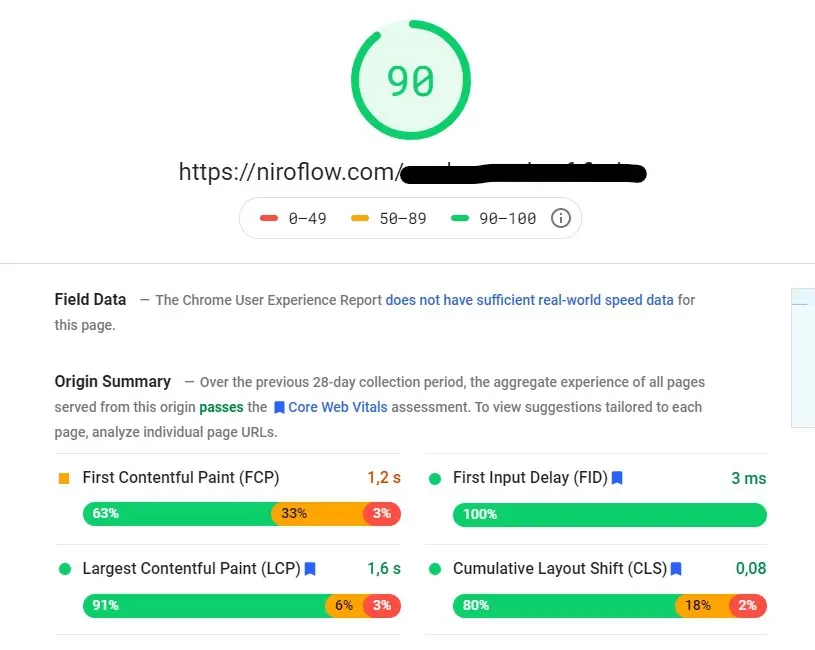 Heyflow was also the most user-friendly tool in our test: minor changes to the design of individual elements are easily possible here and the slides are linked in such a way that each slide does not have to be edited individually. Operation is the most intuitive and the design mode is the most clearly structured.
Inquiry form
Update from 06/24/2021: Another clickflow tool that I only got to know after the publication of this article is request form. In contrast to the tools described so far, this is a WordPress plugin. But it is also possible. integrate the request form on any other system. The tool costs €27 per month in the smallest package and can be tested for 30 days free of charge.
If you use WordPress for your website, like 64% of all CMS-based websites on the internet, then the request form is definitely a very good alternative to the other tools mentioned here. The focus on a CMS makes things easier for you, such as integrating a clickflow into your website. This also has advantages in terms of data protection: Since the request form plugin runs independently directly on your website and no external scripts have to be integrated, the leads and thus the customer data never leave your server. With the other tools, on the other hand, leads are also stored on the servers of the tool providers.
Conclusion
Clickflows are a great way to increase conversion rates. With some customers we were able to achieve really sensational numbers. The creation is very easy with all four tools and you can't really go wrong when choosing the right tool. We chose Heyflow and are more than happy with it, but we were also very happy with Smashleads during our testing phase. There doesn't seem to be much of a difference here at the moment. Perspective was out of the question for us due to the currently missing logic paths, but it knows how to convince with excellent content. Of course, the request form makes a lot of sense, especially for WordPress sites, and makes integration easier, also with regard to data protection. But whichever tool you choose, clickflows should definitely be part of the repertoire of a modern marketing manager.