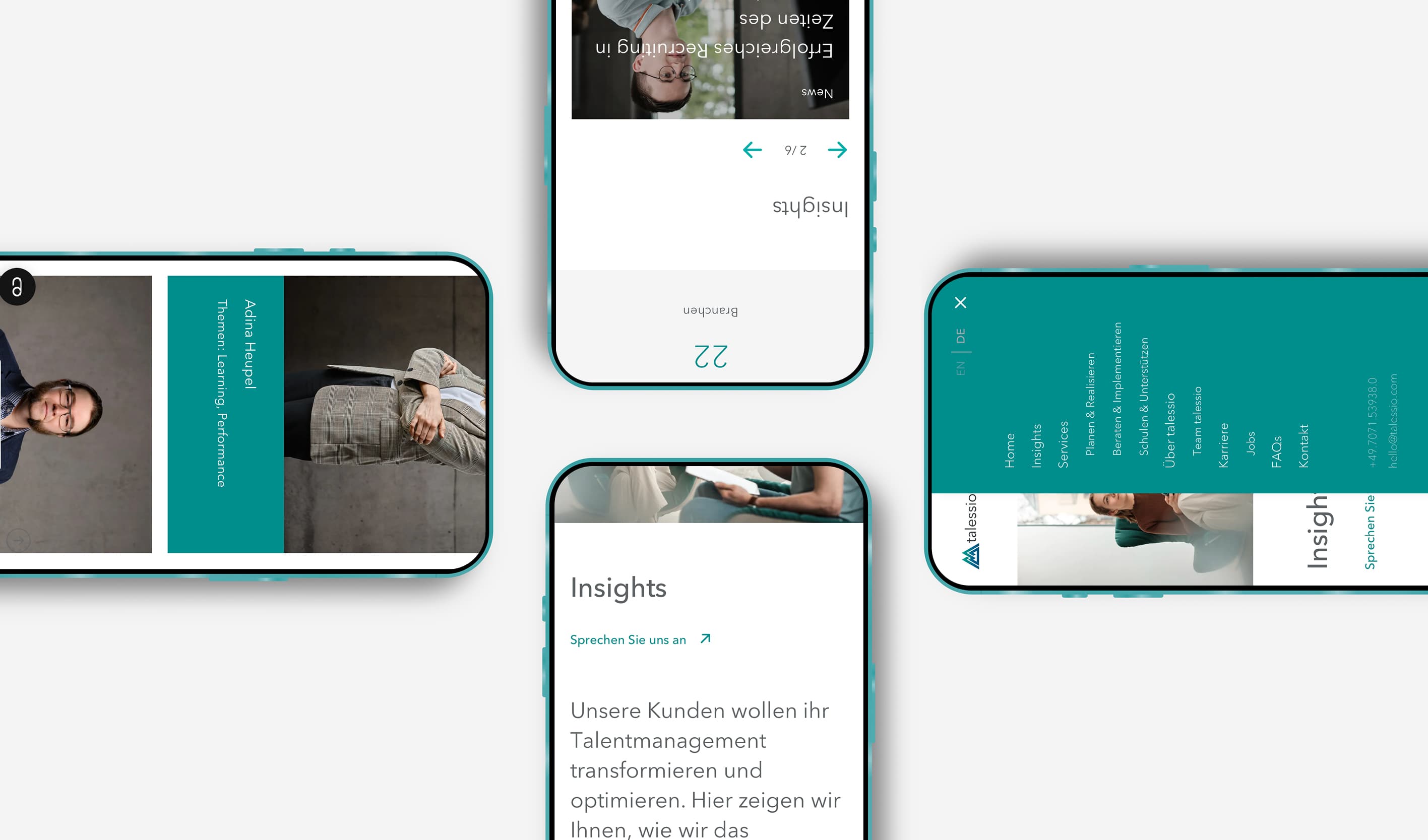 talessio
Mission
talessio is a consulting company that has been in existence since 2018 which supports and accompanies companies on their way to more digitalisation, especially in HR. The focus is clearly on personalisation and, as far as possible, the demands of clients are always addressed individually.
The client approached us because they were looking for a new look, but also a new way of presenting content on their website. Competition is fierce and never sleeps, so a new, high-performance website is a good start for a better search engine ranking. But the website also offers the chance for a higher conversion rate if the experience is appropriately fast, simple and appealing to visitors.
Project scope
Needs and potential analysis
Design concept
Implementation concept with integration of the new corporate design
Web development with Node.js, Next.js and Hygraph CMS
Hosting via Vercel
Restructuring of the website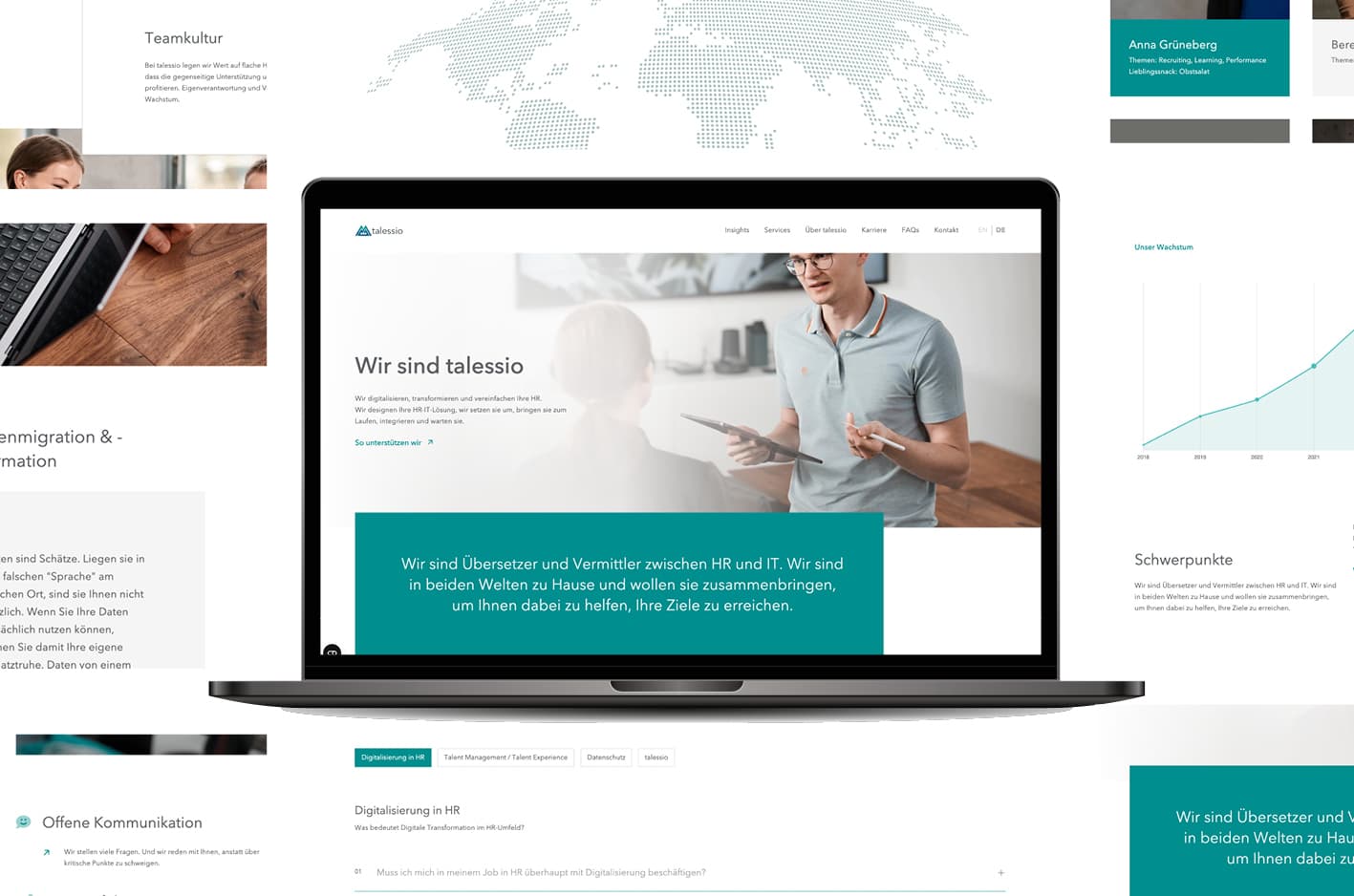 Solution
The result? A clean, uncluttered site that clearly focuses on the added value of working with talessio. An introduction with a direct CTA, which explains to every visitor at a glance what talessio stands for, is supplemented by further landing pages, which allow an increasingly deeper introduction and ultimately round off the overall impression with the corresponding references.
The personal touch is created by the many high-quality images provided by the client. It shows not only the managing director, but also many of the talessio team - so the "face" for a later collaboration is there.
Facilitating entry into the world of HR digitalisation
talessio sees itself as a mediator between the two worlds of "HR" and "IT" and it was precisely for this that a new look was needed. The new site not only has an optimised appearance based on the existing design, but also makes the many possibilities talessio offers its clients more tangible and precise. The service areas offered have each been given their own landing page and can thus fully unfold their effect. The entire project process that a client goes through together with talessio is also presented piece by piece, with the focus on showing the contextual relationships.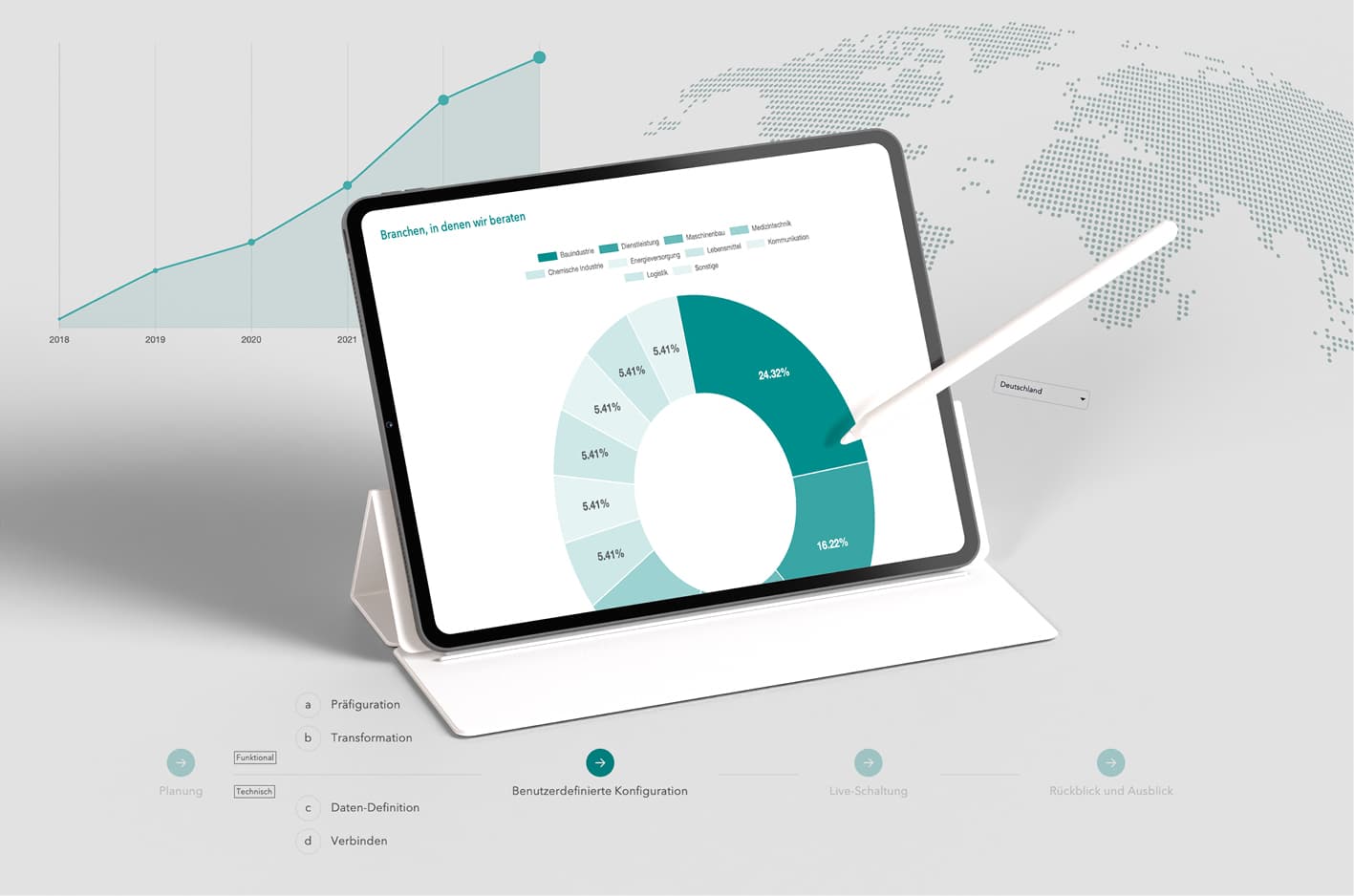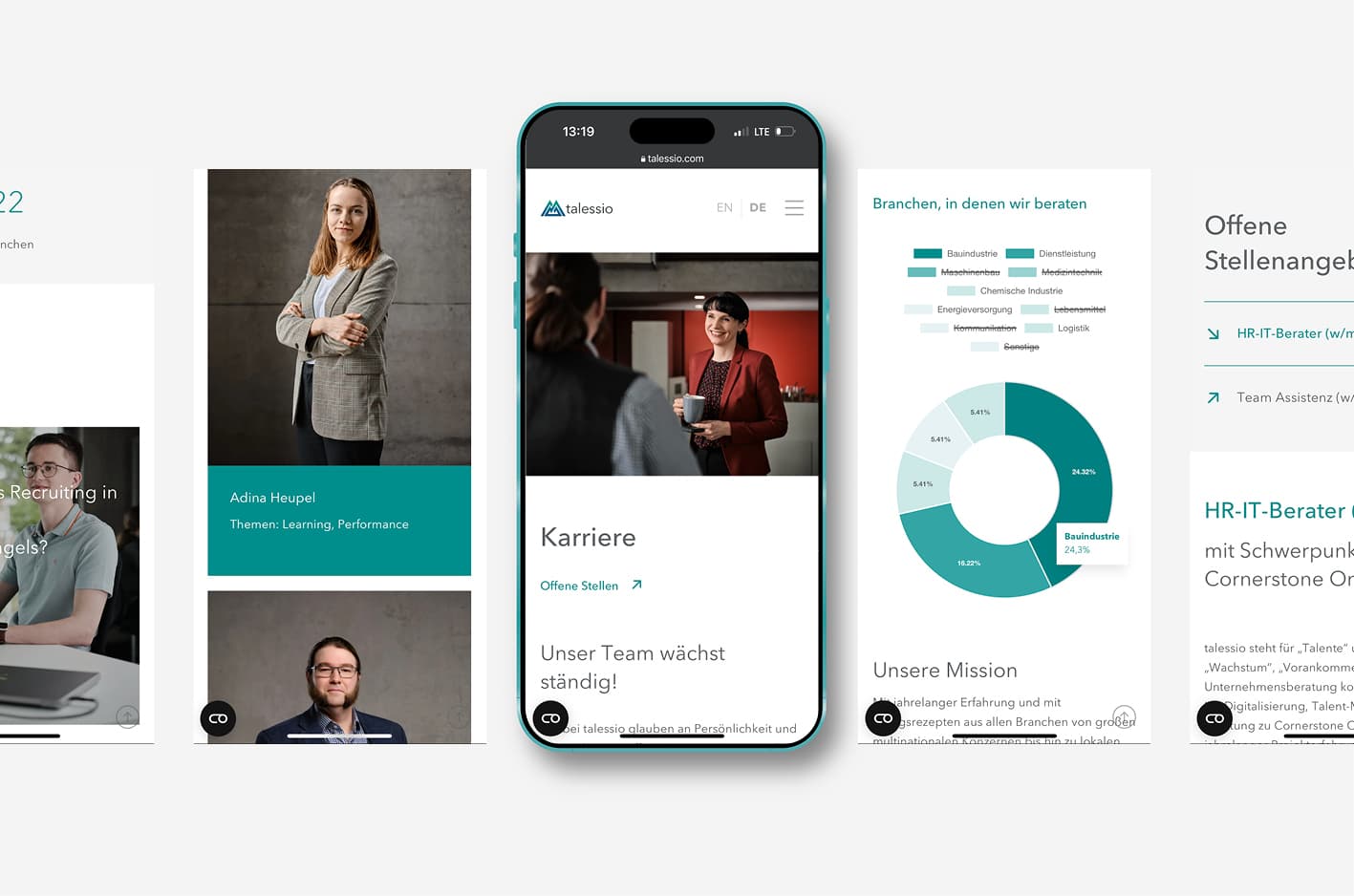 A new site - for today and tomorrow
As a digitalisation consultant and companion, talessio is not only broadly positioned technologically, the focus is also clearly on the future. For this reason too, the switch to Jamstack was the obvious choice, because a site that scores points today with speed, great design, a good user experience and clear added value can still convince customers tomorrow.
Fast loading on screen, mobile optimisation, a new look and improved organic ranking of the site - that was the brief. Together with the energetic team from talessio, we combined creativity with technology and would like to thank them for their excellent cooperation.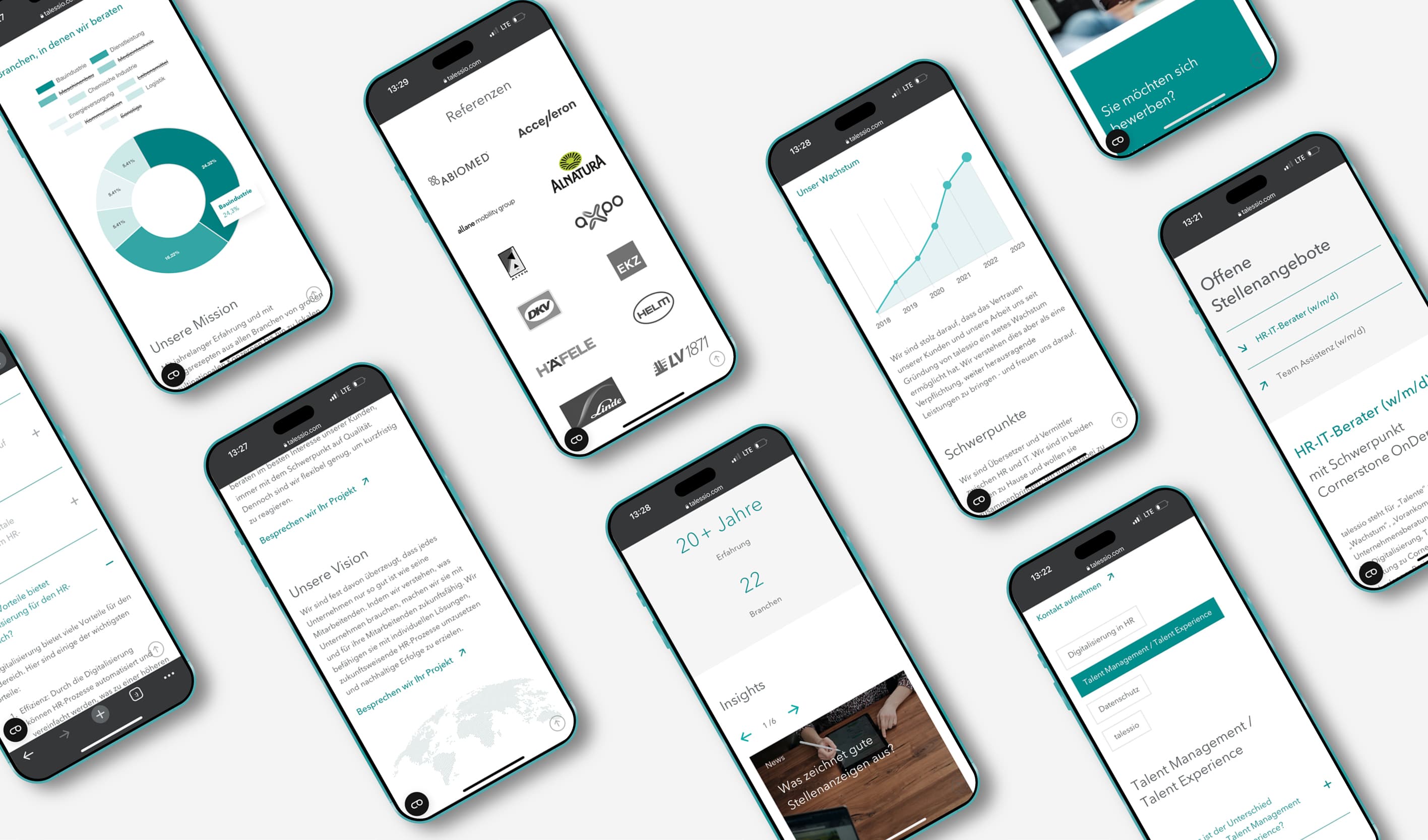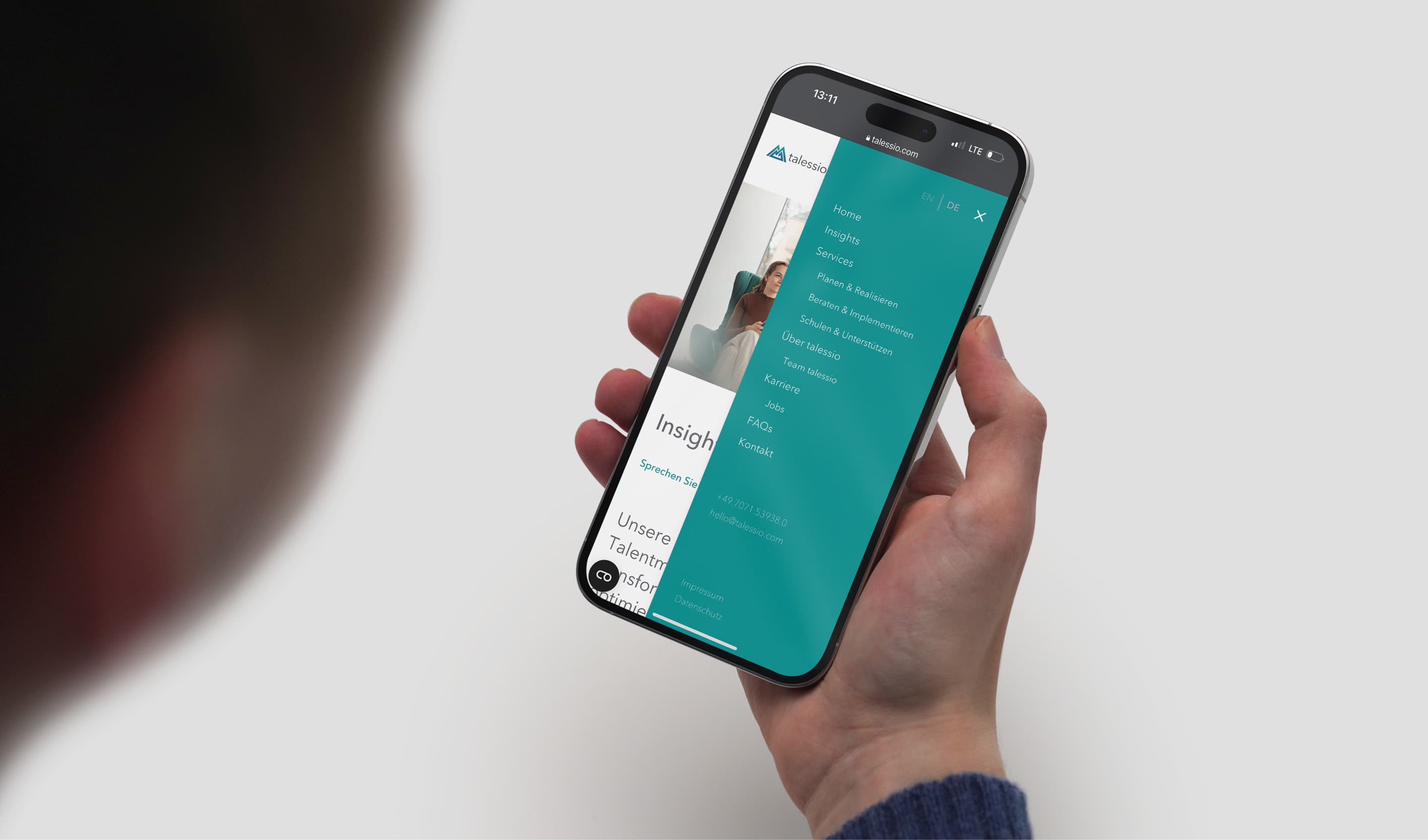 Do you like our projects?
Together we can also achieve your goals.