Take a look: A comparison of SEO and Keyword-Tools
SEO, SEA, SEM - 3 acronyms from online marketing. But what do they actually mean? And how do you approach this area in marketing?
We answer these questions and of course others in our blog post - and introduce you to a few tools for SEO and SEA.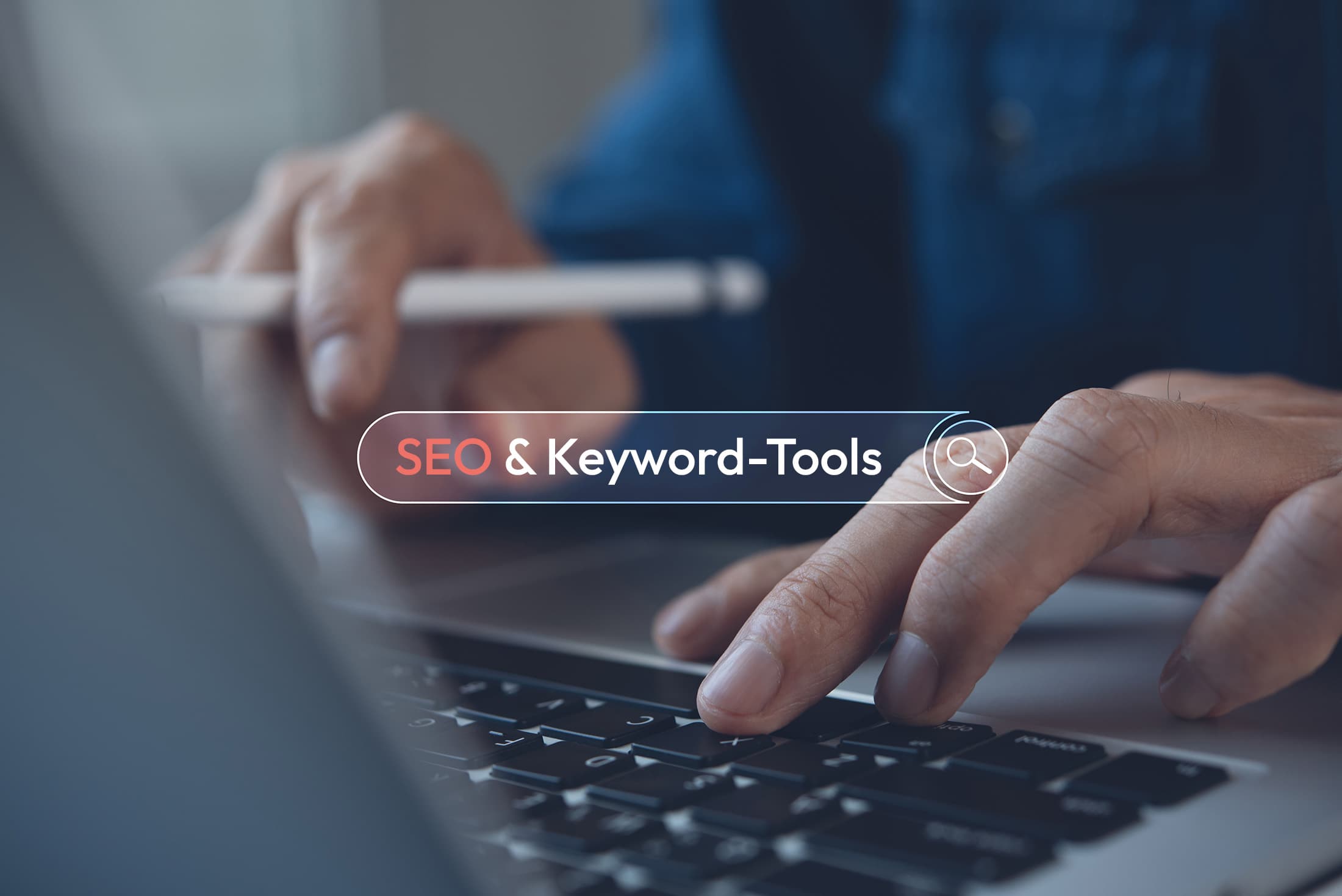 What is SEO? 
SEO - short for Search Engine Optimization - is a marketing method to improve the visibility in search engines such as Google or Bing. SEO aims that the relevant content of a company is displayed on the top positions in the search results. 
There is another acronym that you might have heard of in online marketing context: SEA. 
⁠SEA is short for Search Engine Advertising and is the paid counterpart to SEO. The main difference is that using SEA you pay for visibility on the top positions in e.g. Google search results, while in SEO the ranking is influenced by organic, qualitative content on the website. More information about SEA can be found here.
For SEO, it is important to use the right search terms (keywords) in the content your target group is (hopefully) searching for. It is therefore necessary to write in their wording and to create content specific for your audience - but how do you know how the target group searches and which terms they are looking for? 
SEO and Keyword-Tools
Good News: You don't have to guess or figure out the right search terms on your own. There are many different providers and tools on the market for exactly this situation and in this article we will take a closer look at some of them.
SEOBILITY 
Seobility is a tool with a lot of functions: Besides doing a SEO- and Keyword-Check, the user can also benefit from onpage optimization, rank tracking or performing a backlink analysis.
Seobility analyzes a Webpage and collects all of the Landingpages that are linked. In this way it identifies faulty pages and within the onpage optimization, more than 300 factors relevant for SEO are checked, so that the faulty pages can be addressed step by step.
The functionality Rank Tracking gives users the opportunity to analyze their own ranking and to  learn more about competitors. The backlink analysis can also be helpful and offers e.g. ideas for new backlinks. 
In terms of pricing, Seobility offers a free basic version for beginners, the premium version (€39.90/month) for professional websites and the agency version (€149.90).

Google Ads Keyword Planer - the most common Keyword Tool
Google's  Keyword Planer is a free tool that requires a Google Account for registration. The Keyword Planner is the tool of choice for a lot of people, because especially for paid campaigns that are to be placed in Google's Search Engine, it offers some insights that are helpful in campaign creation. 
Users get information about the amount of search requests within a month, whether the competition for a keyword is Low, Medium or High and also the costs you are facing depending on whether the ad with the keyword is positioned in the top or bottom ads on Google. Those functions are limited if you are not running active campaigns and you only get some generalized insights. Users without active campaigns receive a rough estimate of the search volume from Google. Therefore, the Keyword Planner is of course more useful if active campaigns are running.  
For every beginner - and intermediate - in the world of SEO and SEA, you will benefit from the functions of Google's Keyword Planer. 
⁠
In the world of Google's tools you can also find Google Trends - another free Tool, which gives you the chance to identify search terms with their search volume and topics that people are right now interested in. This one can be used without registration. 

SEMRUSH 
The pricing for Semrush is around $99.95/month and does not offer a trial version. This tool is known for its good insights about competitor analysis.  It not only shows the visibility of your own domain and all keywords, but also a ranking - i.e. how well the entered URL performs. This ranking function can also be used for different Landingpages and to identify, via which landing page the most visitors are coming. The filter and sorting functions also provide information about how good or bad the traffic of one keyword is. The users receive information on KPIs such as CPC (cost-per-click). 
In addition, SEMRUSH also offers a keyword tool that offers you suggestions based on the terms entered and displays the respective search volume. 
⁠That's not all: Semrush offers other functionalities like a Backlink-Check, grouping your keywords, to make visible in which aspect of a search term the target group is most interested in. 
Ubersuggest 
Ubersuggest was taken over by Neil Patel and its functions were fundamentally revised. 
Users have the possibility to find out search volume, competition, and more of individual search terms. In addition, it is also possible to search for topics in order to display relevant keywords - a very good function, especially to get an overview. 
You can also find and analyze your competitors - and benefit from some other functions, that especially Beginners within SEO and SEA can gain useful insights from. If you are interested in taking a closer look or get a picture on your own, you can try Ubersuggest for free within a 7-day-trial-version. It's also possible to use this tool for free without a registration, but you might get less functionality than within the paid version - full access can be reached by paying 100€ for the Lifetime-Version.

SISTRIX 
While talking about visibility on Google, Amazon and Co. you will come across Sistrix. The company behind this tool offers a 14-days-trial-version and costs around 99€/month afterwards. 
As the other mentioned tools, Sistrix offers the possibility of Keyword research, backlink-check and some more to discover. Besides that you can use the Visibility-Index. This function offers users the following possibility: combine the number of keywords (for a ranked domain), with the search volume of these keywords and the click rate of the position and you get an overall picture of the visibility of a domain. Another great feature of SISTRIX is the SERP comparison - keywords can be compared with each other here. So if you want to compare search terms at different points in time (today and 90 days ago), you surely can learn a lot.
Summary
In addition to the tools mentioned above, there are many others, including some generators that generate specific keywords according to the search terms entered and can be divided into several keyword lists. There are also some extensions for the browser that can be used specifically for keyword research (e.g. Keywords Everywhere).
A tool which is not so popular especially in the DACH-region is Keyword Surfer.  It's the free Chrome-extension of Surfer SEO. You can benefit from finding synonyms and Ideas for keywords, which might help you to improve your SEO. 
It doesn't matter which tool you are choosing - today's possibilities of all of the mentioned tools for analyzing and evaluation, you can start right away with SEO and SEA.  

Wanna read more? You can definitely find some thrilling topics on the Flanke 7 blog.