Flanke 7 - our 2022
2022 - 12 chapters with 365 pages. We wanted to use these 12 chapters and fill them with experiences, memories, moments and challenges. And our 12 chapters with 365 pages are now almost over - the right moment to take a look at what we have achieved.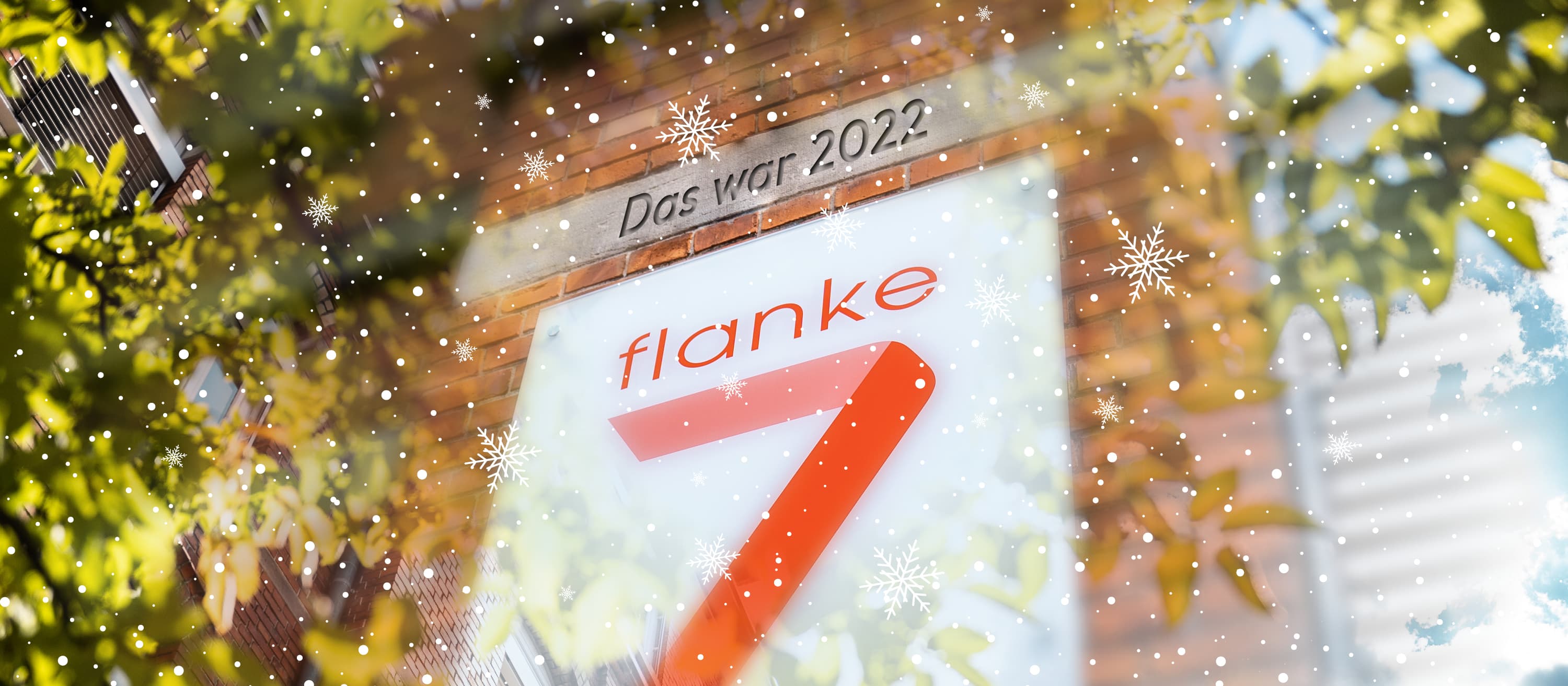 As an agency, we couldn't be prouder of what we've accomplished with our team, day after day, and by now, year after year. Next year, Flanke 7 will be 10 years old as an agency - 10 years in which we have given our best to our clients, continuously developed ourselves, outgrown ourselves, driven ourselves and, to use the words of our three managing directors, "let's really speed up". 
For us, our customers are partners with whom we want to become better together and for whom we get everything out of every project that is feasible. Be it the fastest website, the coolest design or the most fitting campaign. 
⁠Our 12 chapters of 2022 have shown us that respect, honesty in our dealings and, above all, truly individual attention to each client leads to long-term partnerships and makes both sides really happy. The 365 pages of 2022 were individual possibilities and opportunities - for us as an agency, but also for our clients. 
Let's open the pages of 2022 and see what our three managing directors have to say about it.
Chapter No. 1: Marcel 
Marcel, what was the most formative event for you in 2022?
"This year, I found the test of working from abroad for a month particularly exciting. That worked out great and shows that we're already very well positioned in terms of digitization and that our team works great together."
Thank you, Marcel.
Of course, you also gave us a bit of input on what made 2022 a great professional year for you. 
⁠In 2022, Flanke 7 positioned itself as an agency for Jamstack websites and performance marketing. A combination that not only gets clients the fastest website on the market, but also provides the marketing to match, so that every product and service can be promoted accordingly. A symbiosis to fall in love with.
Content marketing was also added - and that will be our next important pillar in 2023. We are very much looking forward to this. 
But in 2022, we also gave Flanke 7 a new "online face" - with the implementation and relaunch of the website. An exciting year so far. 
Marcel, who among other things also takes care of the enlargement of the team and the support, went on the adventure of "hiring" for Flanke 7. And the team has grown - with 2 special features: 3 of our employees work 100% remote. And that from other federal states (Bavaria and Lower Saxony) and even from another country - namely the beautiful Romania. But we also don't want to leave a second special feature unmentioned: Since the beginning of October 2022 we have our first dual student in the field of design, who is not only absolutely right in this field, but also delivers the best results after a very short time. 
So let's take a look at the special projects in 2022 - what would you like to present here, dear Marcel? 
We have had a great year with Schreiner Immobilien, which is also a moment to say thank you for the cooperation. Among other things, Schreiner got an outstanding new Jamstack website - let's see what we tackle together next. 
With Gourmet Berner, we launched another milestone in 2022 - moving from WooCommerce to Shopify. Here we improve the user experience for customers and make it easier for the Gourmet Berner team to run their own webshop.
Ofschenka - a niche market that couldn't be more impressive. It's all about window sills - and we take care of the performance marketing. As a result, the webshop became a central pillar of the company. We are very happy that Ofschenka is growing and thriving like this. 
We would also like to mention a content marketing project - with the company SCHATZ. We are particularly pleased that SCHATZ wanted to try something new and took this path with us. The results speak for themselves and we will be expanding media production in particular in the future. Be curious to see what we will add on top in 2023. 
And as the year drew to a close, there was also something in store for us as an agency - we're renovating. This is partly with our long-time client Nonnenmann Malerarbeiten & Wanddesign, but also with new partners to create a new home for our team and clients in 2023. 
Marcel, thanks for all the input. Your 12 chapters were exciting.
⁠
Chapter No. 2: Carsten
Let's move on to Carsten - Carsten, how would you describe 2022 for you in one word? 
"Successful through growth!"
That's 3 words, but we'll let that stand. At this point, Carsten has added to that as "team success" - his word that describes 2022. Thanks for that, Carsten - probably everyone on the team would agree with you. 
Then let's take a look at your Flanke 7 year 2022 - what is there to mention here? 
In 2022, we had a big project with Stadtwerke Schorndorf. This customer launched a new product on the market: electromobility as a full-service solution, including on-site consulting, wallboxes and a suitable green electricity tariff. A green project, that sounds good! Flanke 7 supported Stadtwerke Schorndorf with passion and commitment so that the Stadtwerke sales team could get a website for exactly this new, great product. Sounds smart? It is - if you want to learn more, just click here.
Moving on, Carsten - what else would you like to report? 
Another web project should not go unmentioned here - in cooperation with the Oskar Frech Seebad. Not only the design and the speed were improved, but also the security of the site was in the focus of this project for Flanke 7 as well as the easier usability on mobile devices. A project you could really "dive into," right? We don't just love word jokes, the professional presentation of our customers is also a matter close to our hearts. Well, and a bathroom can also captivate us, if you want to see for yourself, you can find the final result here. 
In 2022, it also became clear to Flanke 7 that focusing on Jamstack websites was not only important, but also the right thing to do. As an agency, we pursue the goal of creating the best websites in the world for our clients - both in terms of design and performance.
⁠Now let's find out why Carsten chose "team success" as his word for 2022. The Flanke 7 team has grown in 2022 - and Carsten gave us another statement about this:
"I'm super proud of how our enlarged team gives projects everything from concept, to build, to constant optimization, to generating success for our clients. Creating content in close coordination with our design team and in exchange with our customers is especially strong."
Oh Carsten, you are making us blush!  Thank you for your appreciation and feedback, Carsten, we can only return that. 
Home office is also an important point for Carsten in 2022 - because it has become the standard and Flanke 7 works as an agency every day to ensure that everyone feels connected and works closely together, regardless of distance.
You have the last words Carsten - with what do we close your chapter?
"I am so happy and proud of every new Flanke 7 gang member!"
⁠
Chapter No. 3: Philip 
The third one - Philip, what would you like to leave us with for 2023? 
"Together you can do anything - and even more so as an F7 gang, cus #teamnosleepgang."
Thank you, Philip. Philip has a firm credo that has shaped 2022 and the past years as well as will shape the upcoming 2023. Every day will be shaped by the principle of "always doing more than is expected" - to go above and beyond, but also to really bring out the best for each customer. 
So how are we going to shape your chapter? 
Let's put the absolute highlight of 2022 for Philip right at the beginning: the Flanke 7 team. Or let's put it best in his words: "An insanely great team that has fundamentally developed in every area. You can always rely on each other and there's a great atmosphere."
It was also an absolute highlight for Carsten and Marcel, as well as for the rest of the team. If it's so much fun that you forget you're working - then everything has been done right.
⁠But before we shed a tear or two, let's take a look at what else made 2022 a successful year for Philip. 
The continuing restructuring to JAMStack and the expansion of this service are of course also the focus here again. It is important to do and offer what you are good at - and (perhaps even) better than others. Because that's the only way you can put your full energy into it and then get the best possible results. 
What else do we have to tell you? Oh yes, the development of the "Content Marketing" area. We have already started weekly content marketing for one or two customers (SCHATZ Immobilien, Nonnenmann, CT Systemtrennwände and Steuerberater Rösch) in 2022. This is a lot of fun for us, and for the customers we offer the opportunity to communicate added value around the core product or the core service. We will be expanding this area in 2023, with everything that goes with it - such as in-house media and content production. Be excited!
Next up? Clear the stage for MH Sägetechnik. Another customer of the heart that Philip doesn't want to leave unmentioned. In addition to online marketing, Flanke 7 also takes care of the website and the store here - and there's a big move coming up, namely to Shopware 6. We're very happy that we can support at this point and that further development is also being vigorously pursued here. 
For Philip, however, the renovation of the Flanke 7 offices and the agency is also an important aspect of 2022. The redesign of the agency should not only give the team on site a new "feeling" when working, but also for customers who come to visit, it should transport exactly the character of Flanke 7, for which we are known. A beautiful thing, will be amazing! 
So, dear Philip, let's come to the end of your chapter. Let's mention one more thing in conclusion:  Flanke 7 as an agency is a healthy, stable company. We have great dream clients and look forward to working and doing projects with our clients every day. 
Then all that's left to say is: may it continue! 

Chapter No. 4: The Team 
Let's open the last chapter and see what the team has to say. The Flanke 7 team - we couldn't be more different, but we have at least one thing in common: the fun we have at work and how much we enjoy being at Flanke 7. 
Here are a few statements from the team about what made 2022 special: 
"We should be called Flanke 12 by now because that's how the team is growing. In short, the new team members."
"Work can also be really fun, right? I'm happy to be part of the team and let's see what we'll be up to in the next few years!"
"What really stands out for me is how you are welcomed at Flanke 7 and that the communication is really relaxed and direct."
"For me, what has been especially great is that our team has grown and that our office space is being remodeled."
"I've been welcomed so warmly and the team always sticks together and everyone is there for each other, so I've already grown fond of everyone."
"What was or is really cool in 2022: I was able to start in a really cool team and everyone works completely at eye level with their team members. You get a great welcome, can give new impulses and bring ideas to the company, which also allows you to help shape the work within the company. This has even led (in addition to the potential of the industry) to the fact that I am now no longer just one day a week at Flanke 7, but can make it a 100% job in 2023."
A Flanke 7 team member who has been on board for a while has a bit of input here to close this chapter: 
"The fact that the agency has decided on the new option and more freedom through home office has not led to a loss of quality - quite the opposite: productivity has increased. The agency is always up to date in terms of technical equipment, among other things, and that makes working extremely easy. As a team, we have many extra benefits, such as subsidies through the Edenred card, a job bike or even a company car. Our joint team events are not only a lot of fun, the sense of togetherness is strengthened by trips to Europa Park, breakfasts and many other such examples.
We are a small team, with a very organized structure and 3 managing directors - that is something special, because due to the line-up of responsibilities we have no or very flat hierarchies and a relaxed working atmosphere.
Lots of praise, appreciation and working together with a great fun factor - that describes our work quite well. What else I noticed in 2022: Many customers came to us this year because they were dissatisfied elsewhere."
Thank you very much for your comprehensive feedback!
⁠
Summary 
And we close the book "Flanke 7 2022". There were 12 great chapters and every one of the 365 pages was special. We look forward to 2023, a new book, new chapters, opportunities and new pages to fill. Happy New Year, everyone!